BLS CPR & AED Classes with Infant CPR in Dallas
$59.95
American Heart Association AHA BLS CPR and AED Classes with Infant CPR
When caring for small children, CPR training prepares you for any emergency. CPR Certification Dallas is here to deliver the highest-quality CPR classes with infant CPR training.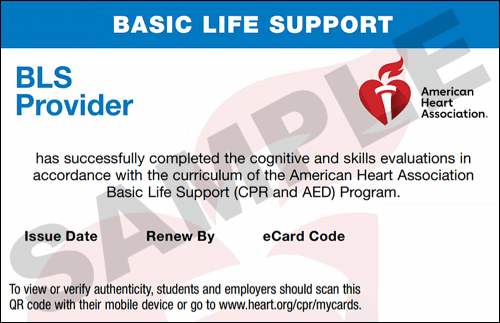 Dallas Infant CPR
When caring for small children, infant CPR training prepares you for any emergency. CPR Certification Dallas is here to deliver the highest-quality CPR classes with infant CPR training.
Our CPR Training Includes
Same Day CPR + First Aid Cards
Hands on Chest Compression Training
Rescue Breath Training
AED Usage for Infant, Child, and Adults
Friendly and Relaxed Environment
Professional Instructors
CPR Certification Dallas Locations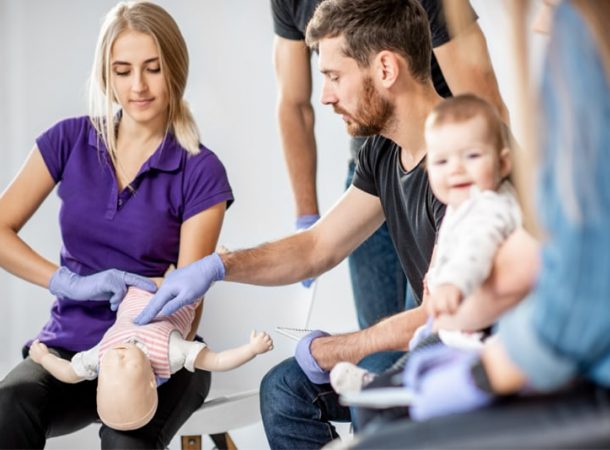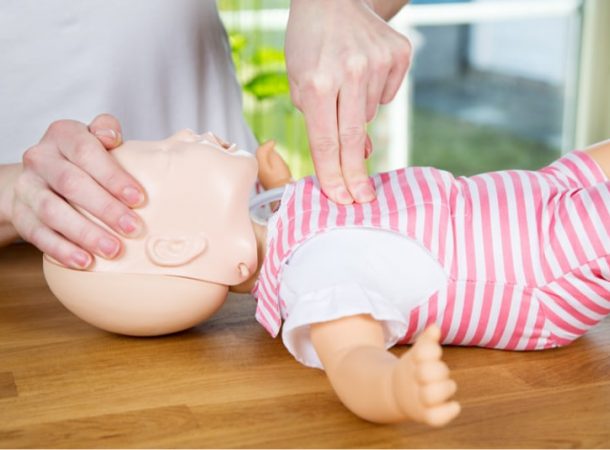 Dallas's Best Infant CPR Classes
Know CPR. Make a difference. Save a life.
We never want anyone to be in a situation where CPR is needed, but our team is here to make sure that you can successfully help save a life with this vital training. When you take our infant CPR class, you will learn how to —
Properly handle an infant
Identify signs of unresponsiveness and choking
Recall BLS, CPR, and AED use for the appropriate ages
Usually, for infants, CPR is needed because they are in cardiac arrest due to breathing problems. Why is it essential to understand infant CPR? Here are a few statistical reasons —
7,000+ young children are affected by cardiac arrest every year.
The most typical cause of cardiac arrest in young children is respiratory failure or blockage in the airway.
Over 21,000 infants died in 2018, with SIDS and suffocation being the 4th and 5th leading causes.
What is CPR?
Cardiopulmonary Resuscitation (CPR) is a combined method of chest compressions and rescue breathing for all ages to restore regular breathing and a heartbeat. CPR keeps the blood pumping through the body to vital organs until further help arrives. Note: Only perform CPR on infants who are not breathing independently or are unconscious/unresponsive. 
What to Expect in Your CPR Classes
By Obtaining your American Heart Association CPR certification, you will satisfy OSHA requirements and be confident to perform this life-saving skill. This method can restore breathing until responders arrive to give further life support. You will learn how to —
Recall the steps of CPR
Look for a pulse
Perform finger or palm chest compressions
Reestablish regular breathing patterns
All employers and organizations accept CPR Certification Dallas, including —
Daycare and Other Caretakers
Nursery caregivers and workers
Nurses, RNs, and CNAs Schools (Private and Public)
Home Health Aides
Nursing Schools and All Other College Programs
Nonprofits like the Boy and Girl Scouts of America
Personal Training Facilities and Gyms
Hospitality Industry
Construction Sites
Hospitals EMT/Paramedic Companies
Firefighting and Other Municipalities
Why Train With Us?
Benefits to training with us include —
One-on-one, hands-on training.
Smaller group sizes.
A certification that is widely known across the nation.
Training provided onsite or offsite.
AHA CPR certification card the same day you train.
And so much more!
FAQS
How do I complete the certification course?
Simply register for your class and attend — our team of trainers will handle everything else! Our instructor-led in-person training will address all crucial components, skills check, and testing. These CPR courses fulfill AHA BLS CPR and AED Healthcare Provider certification training requirements. Be cautious of other online options that may appear cheaper but do not cover all required in-person training. With our CPR renewal class, you will gain the highest overall CPR certification and be ready to save a life.
When can I take my CPR certification course?
Our CPR certification classes are offered weekly. Sign up today!
When will my CPR certification expire?
All CPR training must be renewed every two years to comply with OSHA and employer requirements.
How long do the CPR classes last?
Class times are approximately 3 hrs.